London, England
May 18, 2007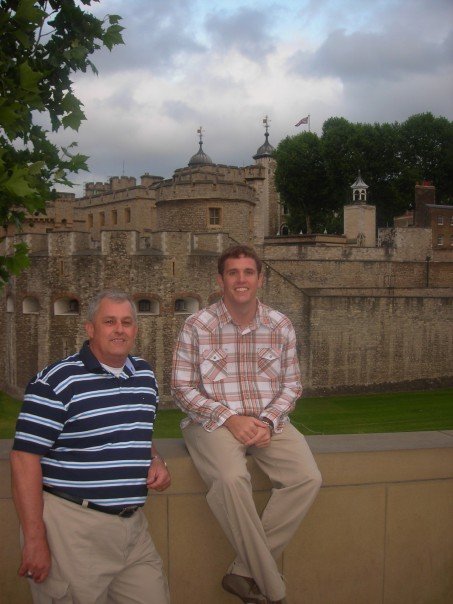 We arrived in London at around 16:00 (4pm to all of you bloody Americans) and took the tube to our hotel on the east side of London. We checked in and walked to the Thames. Our hotel is really close to the Tower of London; so, we walked around and took it and the Tower Bridge all in.
Upon seeing that great piece of English history, we decided to have a nice local meal…KFC! After eating English food for three solid days, you have no idea how good cholesterol tasted! After, the scrumptious meal, we walked down the Thames and looked at The Globe, Big Ben, Parliament, and Westminster Abbey.
It's funny, you see all of these places on television or movies for your entire life, and not one of those shots does any of those places justice. They were breathtaking.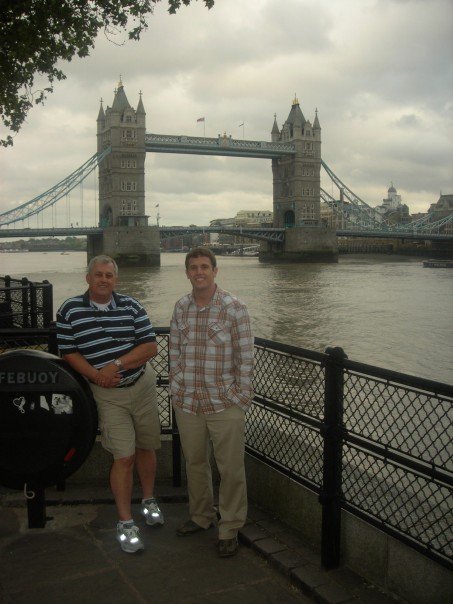 A little nostalgic moment for you…we were walking down the Thames towards Big Ben and Parliament, but there was a tree line that blocked the view. We could only see pieces of the buildings until all at once, there was a clearing and there was Big Ben in all of its glory. Immediately when we saw it, the clock struck 10pm, and the bells started ringing. It could not have been more perfect. I'll be honest, tears came to my eyes because I couldn't believe it was all so real, and I was actually here! It was a moment that I never, ever will forget.
May 19, 2007
–Hallo! Well, another full day of fun and adventure in the UK. We visited Westminster Abbey, Churchill's Bunkers, No. 10 Downing Street, St. Paul's Cathedral, The Globe Theatre, Piccadilly Square, and The Original Hard Rock Café…like I said it was a FULL day!
We woke up around 7:30am this morning because our "Idiots Guide to Europe" book told us that Westminster Abbey opened around 8am, and it was best to get there early in order to avoid a long line. So, being the naive little Americans that we are, we got there around 9am. The only problem was that Westminster Abbey does not open until 9:30am on Saturdays…in the words of the locals, "Bloody inaccurate books!!!"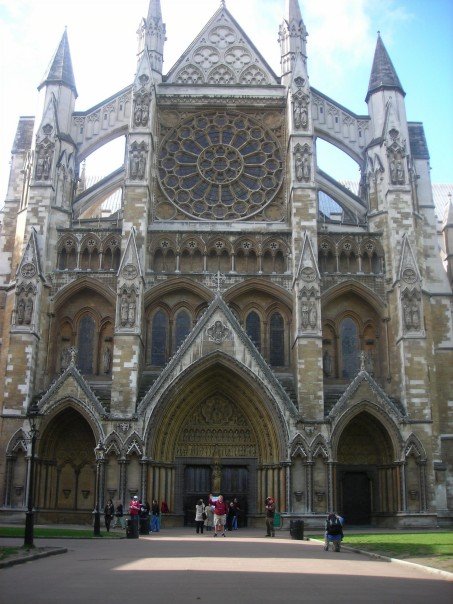 Nonetheless, we took some pictures in order to kill time, and we were the first people to walk into Westminster Abbey today…hey, only 365 people can say that a year!  When we walked into the Abbey, we were blown away with how beautiful it was. We got one of the audio guides, and it really helped guide us through the Abbey. We were able to see the resting places of many kings and queens, the Coronation Chair (the chair that every king and queen since the 1000s has sat on during their coronation), Chaucer's tomb, Darwin's tomb, Isaac Newton's shrine and tomb, President Roosevelt's Memorial, and, my favorite, the British Tomb of the Unknown Soldier. The whole place was overwhelming really because it is unfathomable to think about how much history was lying in the floors of Westminster Abbey. Some of the most powerful and influential people that have ever lived are all buried in the same place. Needless to say, it was pretty neat!
Next on the list was one of the coolest places we have been so far…Churchill's Bunkers. This is a relatively new museum that takes people through the underground bunkers that Sir Winston Churchill and all of his wartime advisory worked in while the German Blitz was plummeting London. Again, we were able to get an audio guide that was awesome. What was so cool about these bunkers was how unimpressive they were. I know that sounds weird; let me explain. Everything you see in London is extremely ornate…Parliament, Big Ben, the Tower Bridge, even the buses have their own flare (double-decker). On top of that, we came directly to Churchill's Bunkers from Westminster Abbey with all of its decor and pageantry. Then, we came to this glorified basement that served as a place of refuge for wartime strategies that literally changed the world.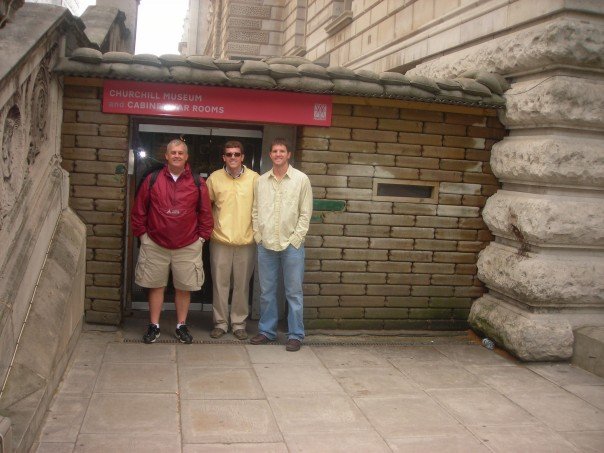 We got to hear audio clips that described how demanding Churchill was and how nerve-racking it was to prepare for a seemingly inevitable German invasion that never came. We got to hear private phone conversations between Churchill and FDR and Churchill and Truman, and we also got to listen to some of the famous Churchill speeches. It became more and more obvious why Churchill is regarded as one of the greatest leaders that the world has ever known, and for a WWII nerd like myself, it was a fun three hours!  
After Churchill's Bunkers, we took a walk down the streets of London and came upon No. 10 Downing Street (the Prime Minister's home). Most of the police officers in London do not carry guns, but these definitely were holding onto some M-16s. It was really neat because Tony Blair is on his way out, and it is well documented in the papers and the news.
After visiting Mr. Blair's crib, we went to St. Paul's Cathedral, and it was as beautiful as Westminster Abbey. If you have ever looked at the pictures of the dome in St. Paul's, NONE of them do them justice. It is absolutely breathtaking. My dad and I took the stairs up to about halfway up the dome (which was only 200 steps away!). My dad decided that he had stepped all of the stairs in St. Paul's that he wanted to step and went downstairs, but I pressed on. I took another 200 steps up to the top of the dome and walked out onto the outdoor balcony. Then, I noticed ANOTHER staircase that took you to the tip-top of the cathedral. After another 200 steps, I stepped out onto a circular balcony that was one of the prettiest views of London that one could imagine. I was above EVERYTHING!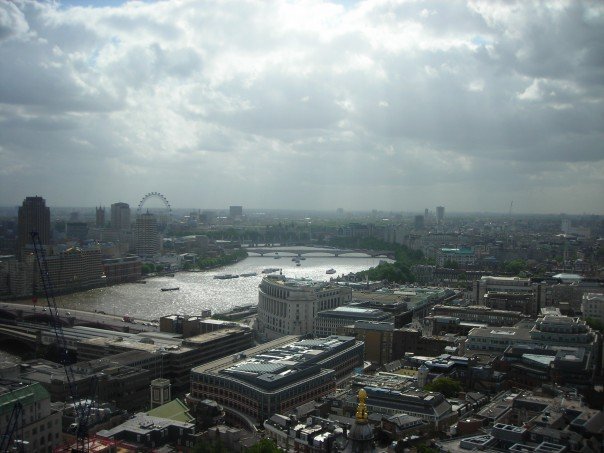 For a person that is really scared of heights, it was a little unnerving, but I was able to persevere and take some really great pictures. After I took the 30-minute trek back down the ground level, I saw some of the other sites in St. Paul's. The coolest was the sanctuary dedicated to the soldiers of the United States for all of their help in WWII. The entire room was decorated in patriotic artifacts, and there was actually a log that listed of 28,000 Americans that died either on the way to or in the aiding of Britain in the war. It was really cool to see another country hold America in such high esteem.
We kept our tourism up by walking over the Millennium Bride to Shakespeare's Globe Theater. Again, pictures do not accurately depict The Globe; it is REALLY SMALL! Me, being the dumb person that has grown up in 90,000+ stadiums and arenas, I guess expected a large, extravagant mega-theater, but those obviously did not exist in England 500 years ago! (Please don't think less of me; sometimes I am just dumb!) Nonetheless, we got to take the tour and see the museum of The Globe. We got to see how they managed special effects, and even heard that special effects are what caused the original Globe to burn down (a cannon fired, caught the thatch roof on fire, and the theater burned to the ground…nice!). We were lucky, and actually got tickets for tomorrow night's showing of Shakespeare's Othello. We have tickets to the side of the stage, and needless to say, after the tour, I am pumped!  More to come on The Globe after the show…
After seeing The Globe, we decided to take our tourism binge to Piccadilly Square (the British knock-off of Times Square). It was pretty cool, but I think we still have them beat with Times Square in New York. 😉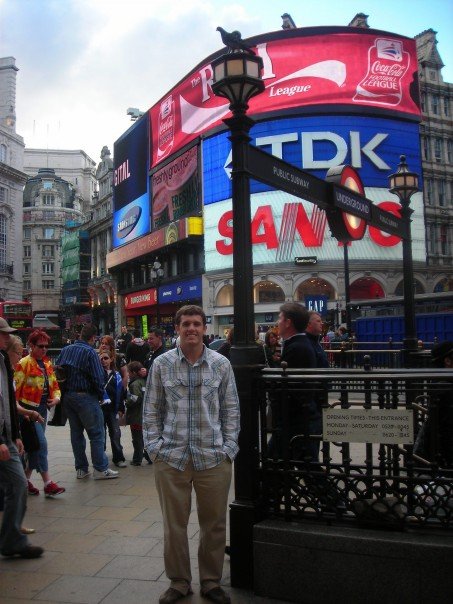 Finally, we finished our day with dinner at The Original Hard Rock Café. We filled our bellies with barbecue, greasy hamburgers, roast beef, and nachos…hey, I am 22; I can eat unhealthy food, right? It was quite nice!
May 20, 2007–Good evening again from London! Today was another full day with a trip Buckingham Palace, Imperial War Museum, and Othello at The Globe.
First, we got a chance to see the changing of the guards at Buckingham, and it was pretty cool. I have seen the changing of the guard at Arlington before, but needless to say there is a little more 'pomp' in the British version. By 'pomp' I mean two full marching bands, two battalions of soldiers, 30 minutes of detailed marches, and a crowd of about 2000 people. It was pretty neat to see the guards that you see so much on television and in movies, and Dad and I, like true tourists, had our picture made with a 'bobby.' (Notice WITH a bobby, not BY a bobby…we are trying to stay out of trouble as much as possible) Needless to say, Queen Elizabeth has a pretty nice place!
Next, we took the Underground under the Thames and over to the Imperial War Museum, and it was everything I hoped it would be. They had real planes, tanks, bombs, anti-aircraft guns, and trucks from World War I & II, not to mention separate and full exhibits for WWI, WWII, D-Day, and The Holocaust. It was really interesting to see the views of the 'great wars' that another country, albeit our closest Allie, have. Sure, the wars were events that shook every member of our country, but other than the people at Pearl Harbor, we did not experience our streets, buildings, and neighborhoods being destroyed on a daily basis. The war was totally different for their civilians. On top of that realization, I also thought about the millions of soldiers that fought in these wars, and realized that most of them were mine and my friends' ages. Needless to say, it was quite humbling.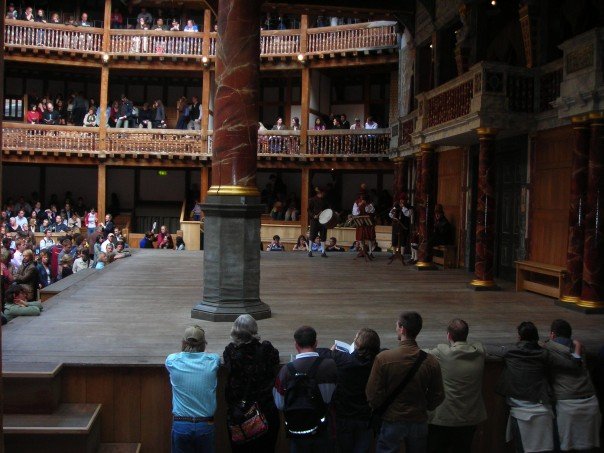 Because we spent over four hours in the Imperial War Museum, we had to rush to The Globe to make it in time for Othello. The play was AWESOME! As I said yesterday, The Globe is not that big; therefore, there isn't a bad sit in the house. Our seats were to the side of the stage (one step up from having the title of 'groundling') Aside from enjoying the play, it was really cool to think about the fact that 500 years ago people were seating in the same seat, watching the same play, just wearing VERY different clothes. Seeing the play made for a really fun night.
May 21, 2007–Greetings again for the last time from England! We leave for the mainland tomorrow, but we made our last full day in Her Majesty's Kingdom a good one. We woke up early, went to the Tower of London, trained out to Salisbury to visit Stonehenge, and now are back at the hotel resting our weary legs!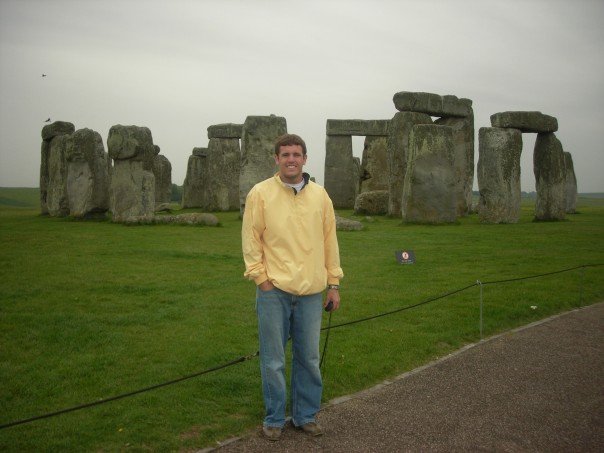 The Tower of London was pretty neat. Like Westminster Abbey, we got to the Tower as soon as it opened. We were able to take a tour from one of the Yeoman Warders, or 'Beefeaters.' They have been the official guards of the Tower of London for hundreds of years. In order to eligible to become one of the Beefeaters, they have to have served in one of the British armed forces for over 20 years. Our guide was really fun, and let us in on many facts about the Tower. I did not realize that the Tower of London was originally a palace, not a prison, for William the Conqueror. Then, it became a prison fro traitors of the crown.
We got to see an early copy of Sir Walter Raleigh's book The History of the World that he actually wrote while he was imprisoned in the Tower. Also, the actual crown jewels are kept in the Tower fortress, and we got to tour that area. It was pretty neat seeing the actual crown that the kings and queens were crowned with during their coronations among the other beautiful jewels of the royal family. Pretty cool stuff.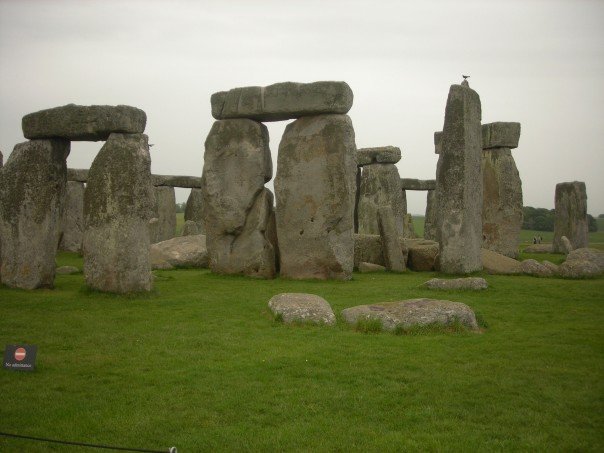 After our Tower tour, we took a two-hour train ride out to Salisbury. Once, there we took a twenty-minute bus ride (on the top deck of the double-decker bus, of course) out to Stonehenge.  My impression of Stonehenge…WOW! In a world that cities are dominated by huge skyscrapers and technological advances, it was devastating to see that over 5000 years ago, people were able to start building something like this. The stones that you see from pictures of Stonehenge weigh TONS, and they were moved from over 240 MILES away! That is unfathomable to think about. How did they move these massive stones that far. Not only that, once they got the stones to the site, it took over 1000 years to construct and arrange these stones in the manner in which they were functional. Personally, after the tour today, I think Stonehenge was constructed as a calendar that kept track of both the summer and winter solstices, but no one really knows. Nonetheless, it was impressive, very, very impressive.