Oxford, England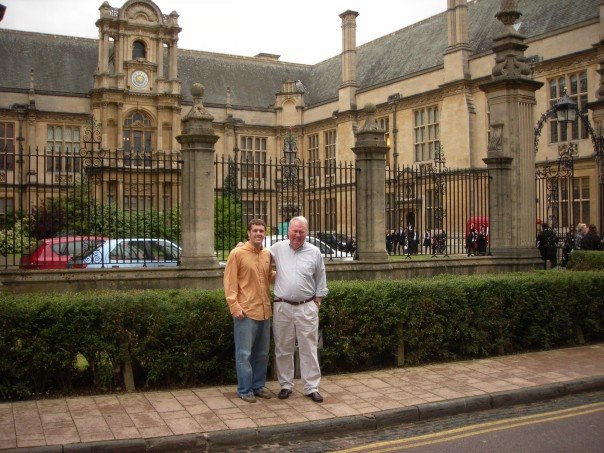 May 16, 2007–Greetings from Oxford!!!  Or, perhaps I should say, "Hello (pronounced with a silent 'h')."  We have safely arrived in the U.K., and surprisingly with no problems at all.  Our flight from Atlanta left at 5:30pm (EST), and it was very nice.  Sadly, our attempts to sleep–although aided with sleeping pills–were very unsuccessful.  I know my dad and I did not sleep and single minute, and my friend Matt was only able to muster about a 30-minute nap.  However, I was able to catch up on some movies that I missed due to my lack of life during the school semester, and we teamed up to dominate the ENTIRE flight on a trivia game that we played on our interactive screens.  So, it wasn't a total loss. 🙂
We landed at London-Gatwick at 7am local time, and made our way through customs.  Matt was the only person that had any problems, and his only consisted of a guy asking him where we were staying tonight and if he voted for George Bush in the last election. 🙂 We picked up our bags and hopped a train to Paddington Station in London and from there to Oxford.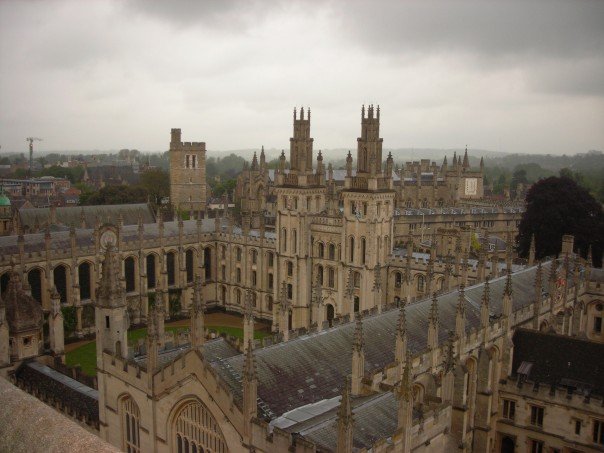 We arrived in Oxford around 11am local time, and Bill Barnard was kind enough to meet us at the train station.  We took a cab (which drove on the wrong side of the road the entire time) back to his flat, and dropped off our baggage.  From there, it was off to our first official sightseeing of the trip, and we did it right!  Dr. Barnard took us around to all of the different colleges of Oxford University and told us a lot of interesting details about this really cool town.  We got to go to Bill Clinton's favorite pub while he was here as a Rhodes Scholar, and we made pictures by the sign above his favorite booth…pretty cool.  Students are still here; in fact they are finishing up their exams, which are really interesting.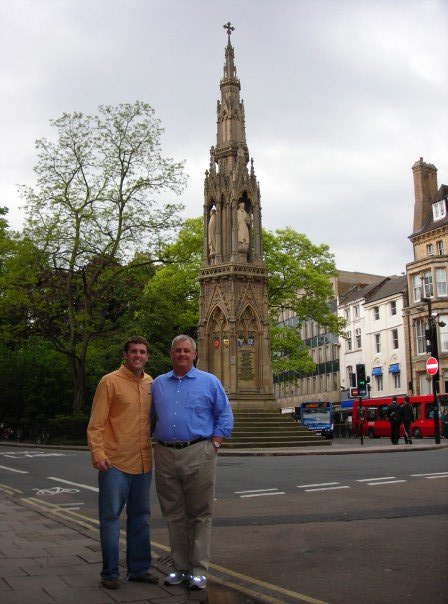 Dr. Barnard told us that at Oxford, students do not really have exams or grades during their first three years of college.  Then, at the end of their studies, they have three days of examinations.  All of the students have to dress up in traditional attire (dark suits, white bow ties, mortar boards, robes, and carnations) and take their tests in one building that is simply called Examination Hall.  Their entire degree rides on these three days of testing…and I thought my exam week was a lot of pressure!!!  Well, enough of that tangent, back to the sightseeing…we continued to tour all of Oxford, and we came back to Dr. Barnard's flat for a much-needed 2-hour power nap.  After that, we went to a nice restaurant in the city and had dinner.  This is a really great town, and Dr. Barnard could not have been ANY nicer to us.  He has taken us around all day and provided us with so much knowledge about this town and the university, not to mention opening up his home to three people that he had never laid eyes on until this morning.  I just cannot tell you how good he has been to us today.
Well, the first day of our adventures has been a long one (not counting the nap, we have been awake for almost 40 straight hours), but it has definitely been a good one.  Oxford is a really neat place that I am definitely going to visit again someday, and it was nice meeting another amazing Ramsey Family member.  That's it for now; we are off to northern England tomorrow for some hiking.