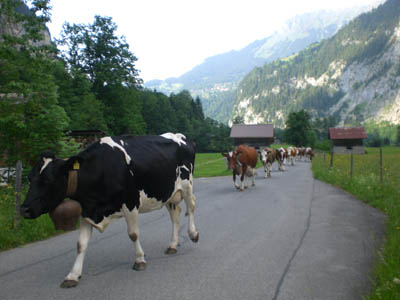 I think we picked the perfect time (and place) to visit Switzerland. When we arrived, the weather was warm (60s) and the sky was clear and gorgeous. We hurried to put our bags in our hotel and took the cable car up one side of the Lauterbrunnen valley to Grutschlap, and then spent two hours walking through Winteregg, Murren, and even further. There were incredible views of the valley below us, many of the 75 waterfalls in the valley, Jungafrau (tallest peak in Europe), and more. When we reached on end of the level of the mountain we were on, we took the cable car down to Stechleberg and walked back to Lauterbrunnen through the valley. There were more gorgeous views of both sides of the valley, the mountains beyond, and fields of wildflowers besides a rushing river filled with rapids. We also nearly got run over by a herd of cows (!) and had to hop over a barbed wire fence to get off the path to let the 50 or so cows run by on their way home for the evening! That night we experienced our first taste of true Swiss cuisine, something that looked like hash browns with fancy toppings but turned out to be "roesti", something they like to think of as a national dish? I had a dish of roesti with bacon and onions, topped with swiss cheese and a fried egg…paired with a chocolate fondue with fresh fruit for Ldessert? Another one of the top meals while in Europe (my brother agrees on this one!).
On our second day in Switzerland, we got up extra early to take the first set of trains up to Jungfrau, the highest peak in Europe. Unfortunately, we stopped to check the live views of all of the area mountain peaks at the reception area before heading up: and you couldn't see a single thing. The gorgeous weather from the day before had vanished and the rest of our trip had thick, low-lying layers of clouds and fog. However, there is still plenty to do despite any clouds, fog, or rain in Lauterbrunnen Valley. My brother had mentioned at one point that he wanted to hike around Wengen; I knew there was a train that took you up to the small mountain village and you could hike up further or down as you wished. I thought it would be a great idea to start in the valley where we were and hike up, then eat lunch and decide where to go from there.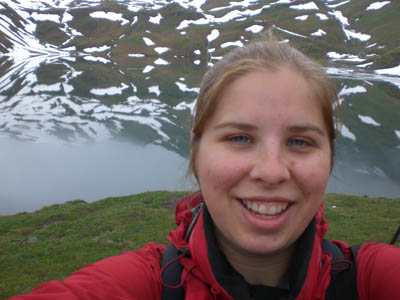 Ow. That's the first word I will use to describe the hike that I felt every minute of the two hours it took us! And the second word? Wow. The feeling of strength (or insanity) when we reached the village nearly two hours later was empowering..and the views as we climbed up and looked back on the valley were invigorating. It was fascinating to climb up the mountain and zig zag back and forth as the fog slowly lifted around us. Once we arrived in the village, we grabbed lunch but decided to take the train back down to Lauterbrunnen. We retraced our steps in the valley for a few miles (past the cow stampede experience area) and visited trummelbach falls. It felt like a tourist trap as we walked up and saw a dozen charter buses and large crowds, but the 10 falls inside the mountain that were lit up were pretty cool. We also hiked back down the valley and then up *behind* one of the waterfalls (one of the tallest in Switzerland, and also one that we saw someone base jumping off of later in the evening!).
Our third and last day in Switzerland was again swathed in fog and low clouds, so we took the train to Sweilutshinen and to Grindelwald, then boarded Europe's longest cable car ride up to First. The fog was so thick you couldn't even see the car in front of you, yet you could hear the cow bells on the mountain below you – very eerie! Once we stepped out of the cable car facility, it was completely covered in a dense fog so that you could only see a few feet ahead of you. Nevertheless 🙂 we started following the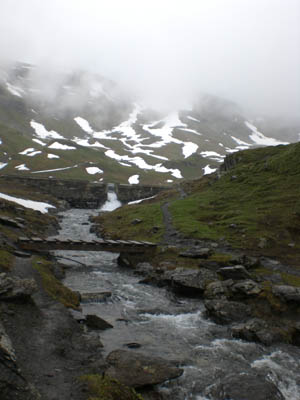 path from First to Bachalpsee, joking that maybe we would fall into one of the lakes we were seeking before we could see it. Along the way, we were fascinated to find huge amounts of snow. I was wearing jeans and a waterproof windbreaker-type jacket of a tshirt; in June; and here we throwing snowballs on a mountain in the middle of Switzerland! Such a cool feeling…but that was topped by feelings of awe as we approached the lakes of Bachalpsee (some of the most photographed lakes in Switzerland), and a huge wind came and swept most of the fog off for incredible breathtaking views. We spent a lot of time there just soaking up the incredible scenery. It's really hard to describe it, and I don't think the pictures I took (a couple of which are attached) do its beauty justice. This is possibly my favorite place out of my entire Great Ideas Tour, and my number one recommendation for anyone who visits Europe: hike in the Jungfrau region, especially in and around Lauterbrunnen valley, and DEFINITELY do not miss the views in Bachalpsee!!
In the afternoon, we took the train down to Interlaken. Although your other email warned me against jumping off bridges a la Benton (:p), I really wanted to go paragliding off a mountain and over the beautiful blue lakes. However, my plans were thwarted by the murky weather that followed us out of the valley. So, my brother and I spent a little bit of time wandering the streets (although we were spoiled after the pristine beauty of Bachalpsee and did not appreciate the crowds of people) before boarding the train to Zurich. So, sadly I left my brother in Switzerland (he stayed 2 more days while I unfortunately needed to come home to the real world and start packing!). I was amused by my train ride, which was a special train to Zurich because of some big concert; there were lots of different nationalities and age groups traveling and singing and hanging out on the train. The guy nearest me pulled out a guitar and started strumming some songs including Hotel California and Sweet Home Alabama – I had to laugh :).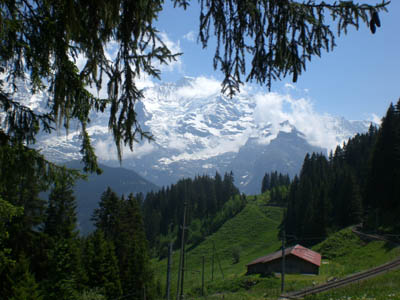 And so now, I am truly in sweet home Alabama. It's bittersweet because I had such an incredible time on my Great Ideas Tour. It truly was just that. I love being home with my family, but getting ready to leave again and pick up and move to Seattle is going to be a challenge. Luckily, I have my GIT experience to sustain me until I start my next adventure – maybe climbing Mt. Rainier (and it's definitely time for me to learn to snowboard, ski, and surf!)? I hope if anyone from the Ramsey family comes out west or northwest or visits Vancouver that they'll look me up so we can visit before next spring!
Thank you again, Jay and Ramsey Family, for *everything* and to everyone who contributes and supports the Great Ideas Tour. This is something that I'll remember forever, something I will want to relive and experience more of, and something that has without a doubt changed my life. I hope to make the Ramsey family proud as I move and start my career and hopefully can contribute back to the Family some of the incredible support, mentorship, and love that I am honored to have received.
-Dana