"Prague is like a pearl of the earth for me. I feel happy here as if it was the last city on the earth where there would be a place for artists left. You can tell it from the way the city is full of art and not commerce, from the way the people treat art here. On the first day of my visit I noticed there was a poster for Don Giovanni on every corner, but not a single one for Star Wars." –American film producer, R.J. Glickman
Prague feels like an artisan in temperament—an incredible richness and depth in her areas of mastery and a rather frank indifference to those subjects which are not. Take transportation for instance. Getting in, out, and around Prague was rather like a crap shoot most of the time. And if Brett's and my luck with local transportation are any indication, you should keep us away from Vegas for a long while. But Prague´s lack of breadth, her aloofness, and inaccessibility are more than made up for by the intense vibe of creativity to be felt pulsing about the city—a true artisan's city.
Brett and I lodged in Hostel U Melounu. My favorite part of this place was its hedge-trimmed courtyard dotted with picnic tables where people gathered at all times to read, write, eat, converse, and exchange ideas. We grabbed some lunch at one of Prague's top restaurants, U Sutere, a cavernous cellar that served up traditional Czech cuisine. Brett ordered the thick, rich goulash and hdleckny dumplings.
The Czech Republic is renowned for its glass artisans. I insisted on dragging Brett around to shop for a unique piece of Czech glassware for my new apartment in Ohio. How will we get it home? How much will it cost? Where are we going to find it? I ignored his protestations. I was a woman on a mission. There are a zillion Czech glass and crystal shops aimed squarely at tourists. With a little help from our guide book, we sought out a local store that guarantees its glass is created by artisans in the Czech Republic only. The quirky, modern store, Blue Praha, has funky, innovative pieces designed to compliment a variety of spaces—from vases to figurines, from candlesticks to large platters. I chose a middle-sized centerpiece for my coffee table in a non-symmetrical design. The artisan deftly swirled a cerulean blue and a se-green with the color getting deeper and more intense as it swirls down toward the center of the dish.
After this little excursion, I had worn Brett out and we returned to the hostel to rest and do laundry and use the internet and get showers.
The next day we met up with Prague's artistry in a variety of places. Our first walk took us to the Fred and Ginger dancing building, an architectural wonder designed to artfully evoke a couple dancing. We then sauntered along Charles Bridge. Here you could find artisans of every stripe and skill level plying their trade and their wares—jewelry designers, painters, caricature artists, puppeteers with their marionettes, jazz musicians, etc.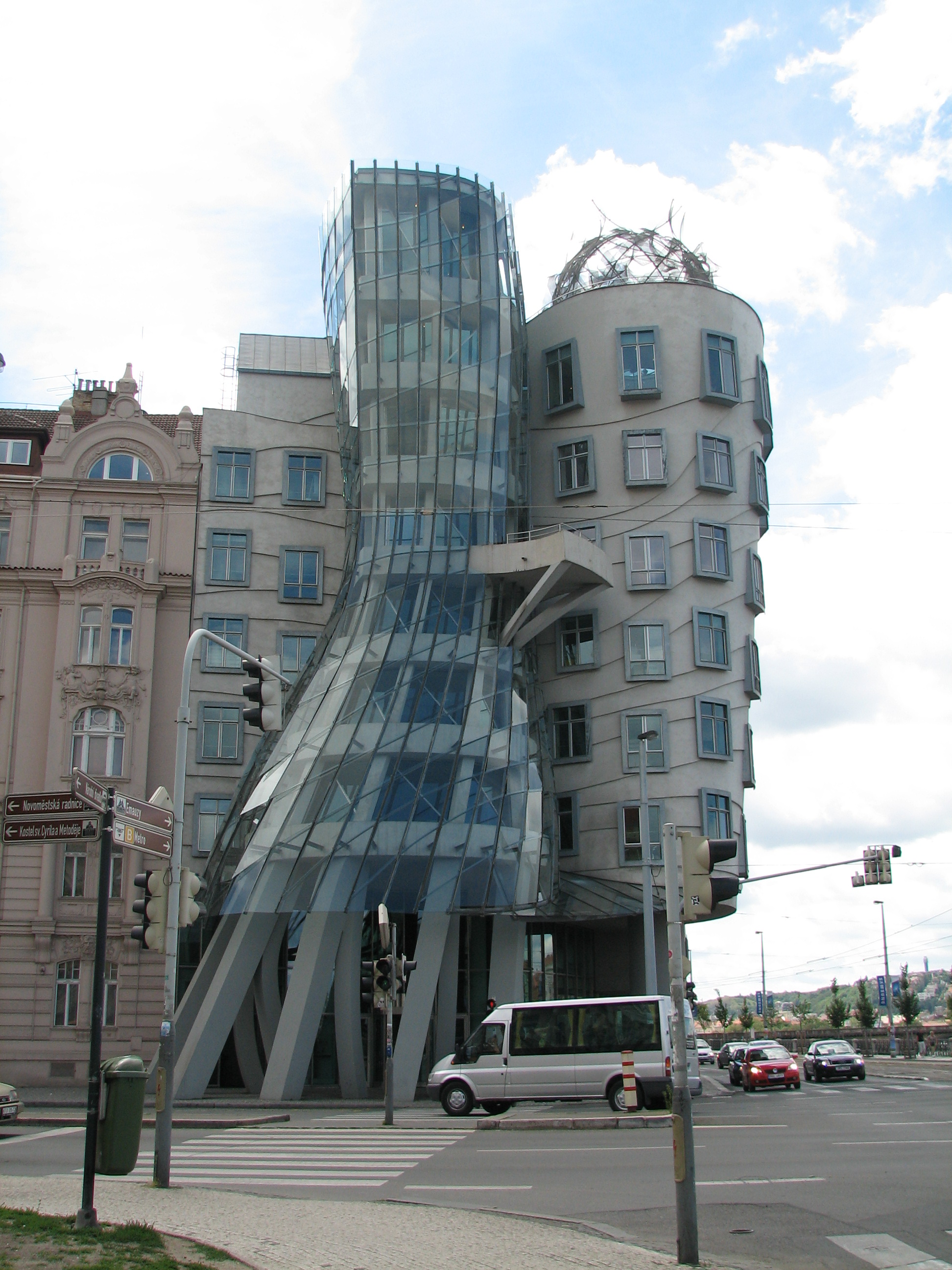 Across the bridge, we made our way to the Church of Our Lady Victorious. It is inside this church, tucked away in the heart of Prague, where the Infant Jesus of Prague, or the Prague Bambino, stands. Numerous miracles have been attributed to it, and in front there is a kneeler with a prayer book that has the prayer and petition in many languages. A group of devoted women artisans craft elaborate cloaks for the statue. We visited the museum where some of the many delicate and detailed garments are kept.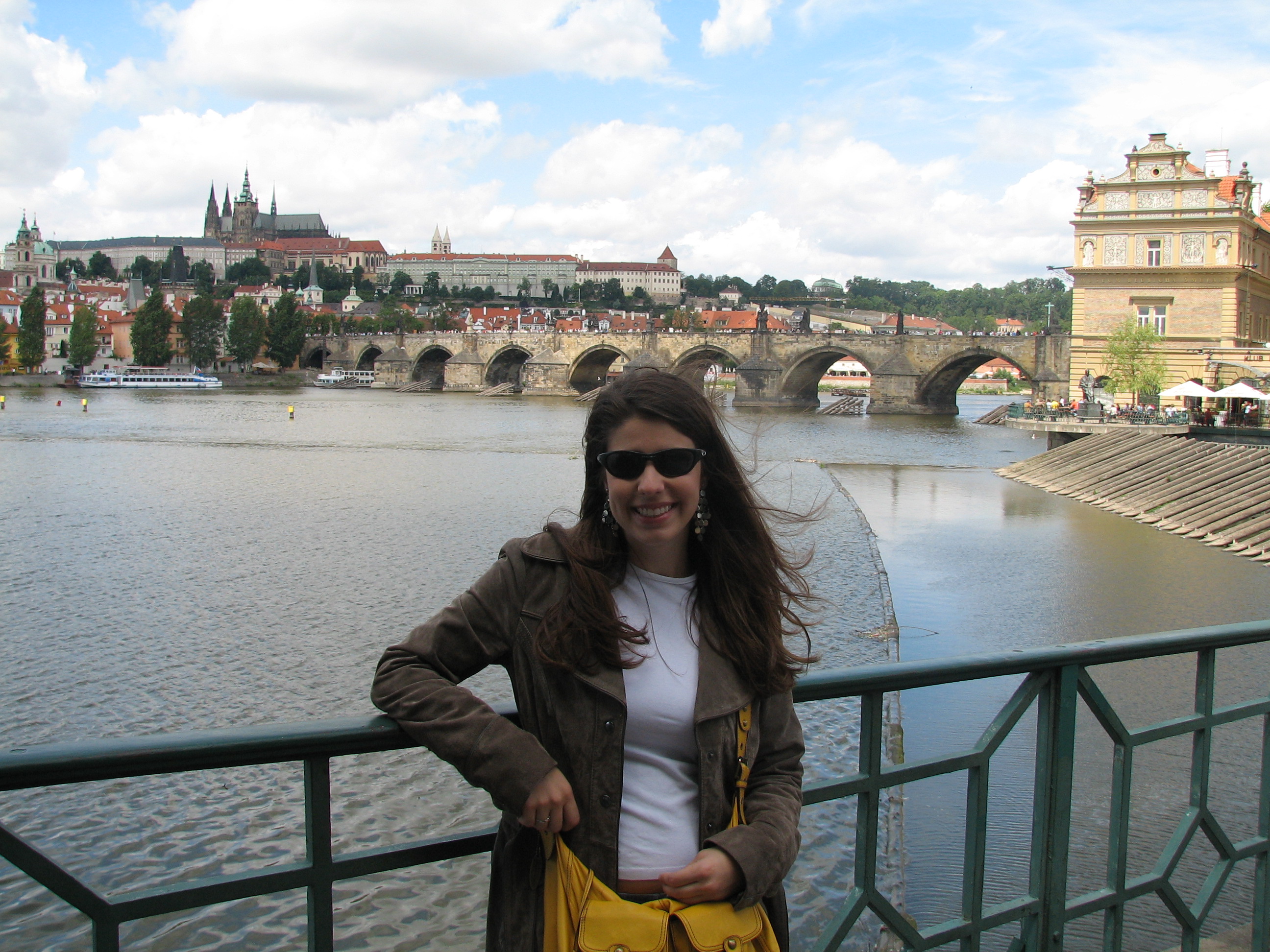 After lunch we wandered up to the Jewish quarter and took up residence for awhile at the Franz Kafka café. This Prague artist is widely celebrated in the city with a museum and an exhibition about his literary career, but we just enjoyed the city as a writer might, as Kafka probably once did—stretched out at a sidewalk café, sipping coffees, reading books, observing life, getting lost in thought.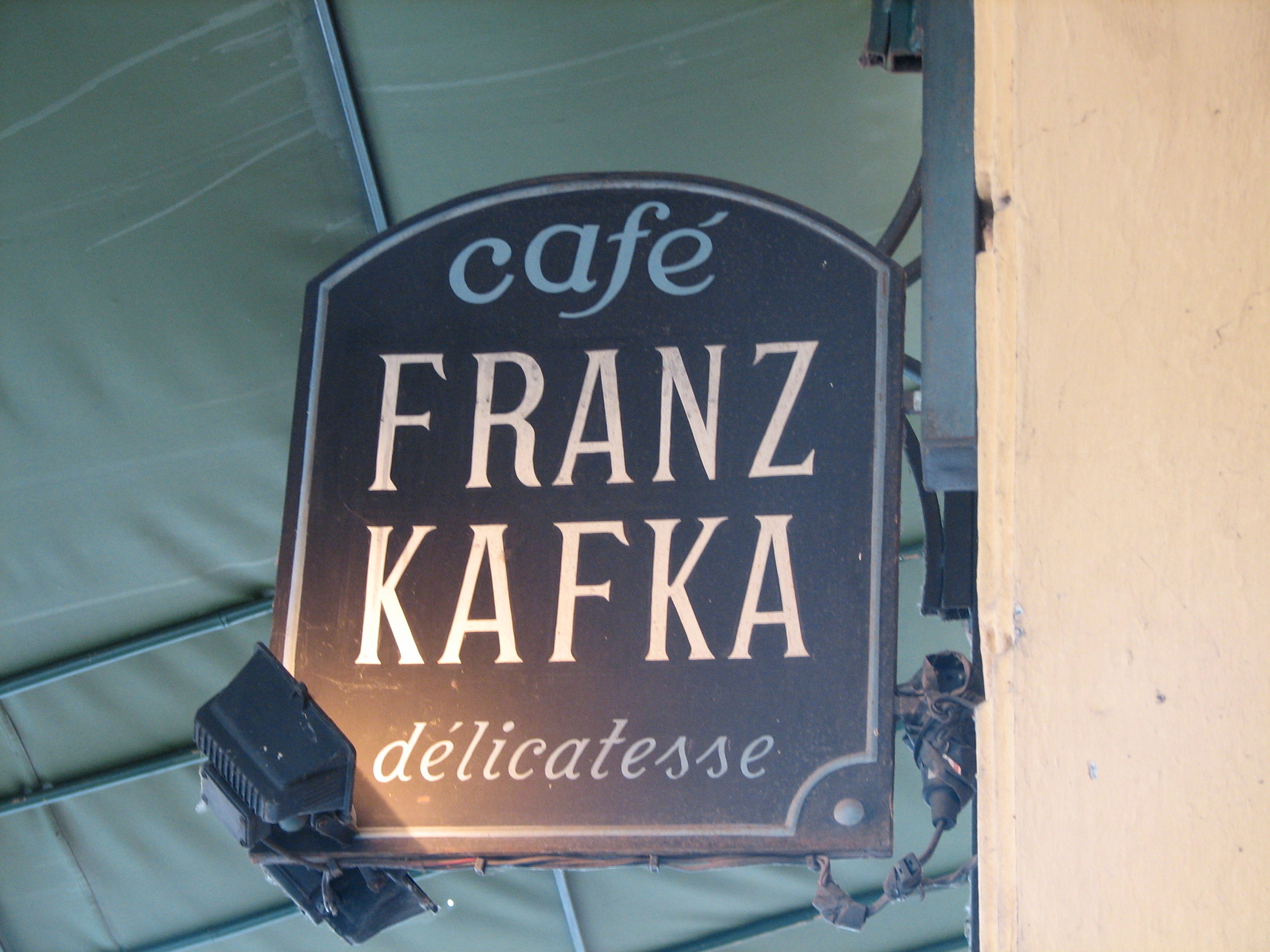 We ended our respite in time enough to find the National Marionette Theater in part of the library complex. This art deco theater was built in the 1920's in an effort to revive the old legacy of marionette artistry in the Czech Republic. Some of the first to arrive, we settled ourselves in front row seats and waited for the crushed velvet curtain to rise for the famed production of Mozart's "opera of operas," Don Giovanni.
The masterful puppeteers brought the opera about this philandering ladies' man that is ultimately pulled down into the depths of hell for his sins to vivid life in a style that crossed language barriers. The marionettes' sharp, stiff movements exaggerated and elevated the story, giving it comic overtones. The Spanish costuming and careful crafting of the puppets themselves were an art quite marvelous. I enjoyed being on the front row as well because we had a good view of the puppeteers' hands reaching over the set to ply the puppets into their motions. The players would pass puppets back and forth seamlessly—playing Don Giovanni in one breath, playing the hapless peasant girl he sets his sights on in the next. Having never seen a marionette performance, I found it fascinating how the puppeteers, far from trying to keep themselves out of the show as though the puppets all moved of their own accord, actually integrated themselves into the show—offering a hand for Mozart to kiss, dropping their hands down across the set when their character died, conspicuously checking their watch when the final aria moralizing about Don Giovanni's fate drug on for too long. This show was the highlight of our time in Prague.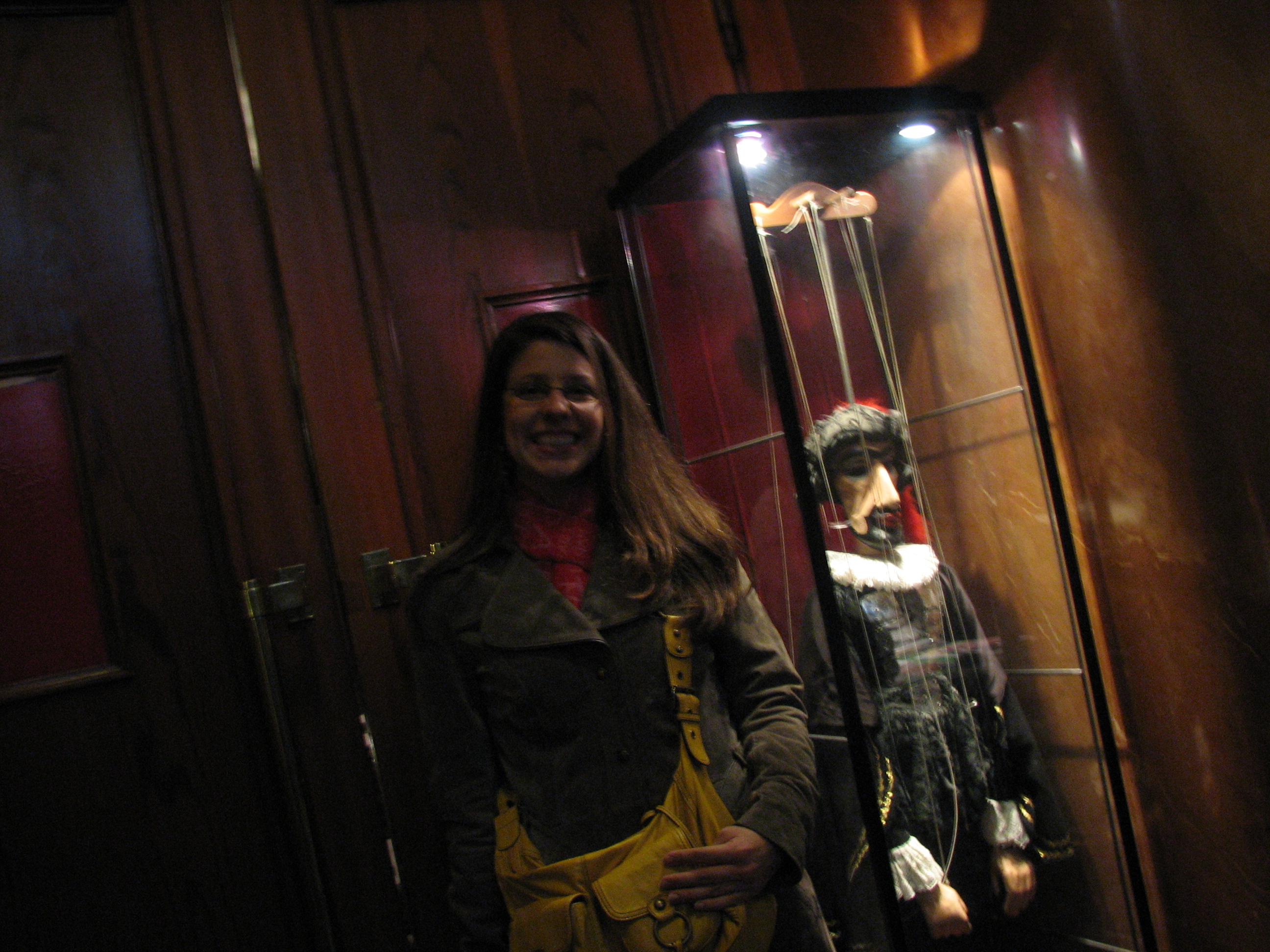 We wrapped up the evening with a visit to a neighborhood favorite dive called Bandito's.
Prague was probably the most different city we have been to thus far. Even its former execution method of choice was different—defenestration, or hurling the accused out of windows. Today (hopefully), the only thing being chunked out of windows are first drafts of would-be masterpieces as Prague's artisans work away creating new beautiful things with which to clutter the sparkling shop windows.
We had a relaxing morning in the courtyard of our hostel, then hopped a 5 hour train to see John in Vienna. More to come on Vienna and the great idea of empire during our next net session.
Much love!!
Kristi