So we're going from one end of the spectrum, from the farcical, the fantastical, the un-reality of fairy tales to an entirely different great idea—that of authenticity with its tangible, touchable, real reality. Why this sudden change of heart? Well, once upon a time, in a land far, far away two young travelers found themselves in a small town in southwestern Germany. Due to some miscalculations of travel time (9 hours total!) visiting the fairy tale castle of Neuchwanstein became an impossibility. So instead of getting mixed up in mischief and make believe, we had an entirely different experience than we expected in Schorndorf, Germany. This sort of messiness separates our stories from the pristine cookie cutter structure of fairy tales. We skip off into the sunset; we get sunburned. We ride off on a white horse; we endure chaffing. We may not live happily ever after, but we are moved by turns.
What we discovered in Schorndorf, Germany was not just the quaintness of a fairy tale town with its timber and plaster shops and its castle, but a real place, with everyday people, leading real lives. In a word, it was authentic.
Schorndorf, Germany and Tuscaloosa are Sister Cities. They frequently have delegates that do all sorts of exchanges between the two places—political, economic, cultural and academic. We stayed with the Sister Cities Coordinator for Tuscaloosa in Schorndorf, Mrs. Heidrun Bacher. Heidi loves the program because it fosters exchange on a private and not just a public level. Guests stay in private homes and get a glimpse of real life in another place. They have many opportunities to discuss the differences (and similarities) between the two places with their host families, gain new ideas and new respect. They get to have an experience of a place as is, and not as it has been idealized, or denigrated, by common rhetoric.
We arrived late in the afternoon. After time enough to shoot off an email or two, we were picked up by Mr. Ralph Beck, one of the Bachers' friends and colleagues because the Bachers were returning from a trip of their own. The Becks took us into their home for dinner and game night with their circle of friends. We were granted the side of a city you never see as a tourist—the private life of locals. What people do when the shops are closed down, the cafe awnings pulled up, when the cameras have stopped flashing. We enjoyed dinner, then they taught us how to play 6 Nimmt, a card game. Even though we were just learning the ropes and they played no practice rounds, and they kept feeding us glasses of wine, Brett and I beat them at their own game, taking first and second place. You gotta be in it to win it, baby.
Brett commented that if you turn the sound off, the foreign language playing upon our ears, it was a scene you'd find anywhere—friends laughing when someone got stuck with a bad card, reminiscing about memories, enjoying a meal. The American team 🙂 then retired to our guest apartment above the bookshop on the Marketplatz.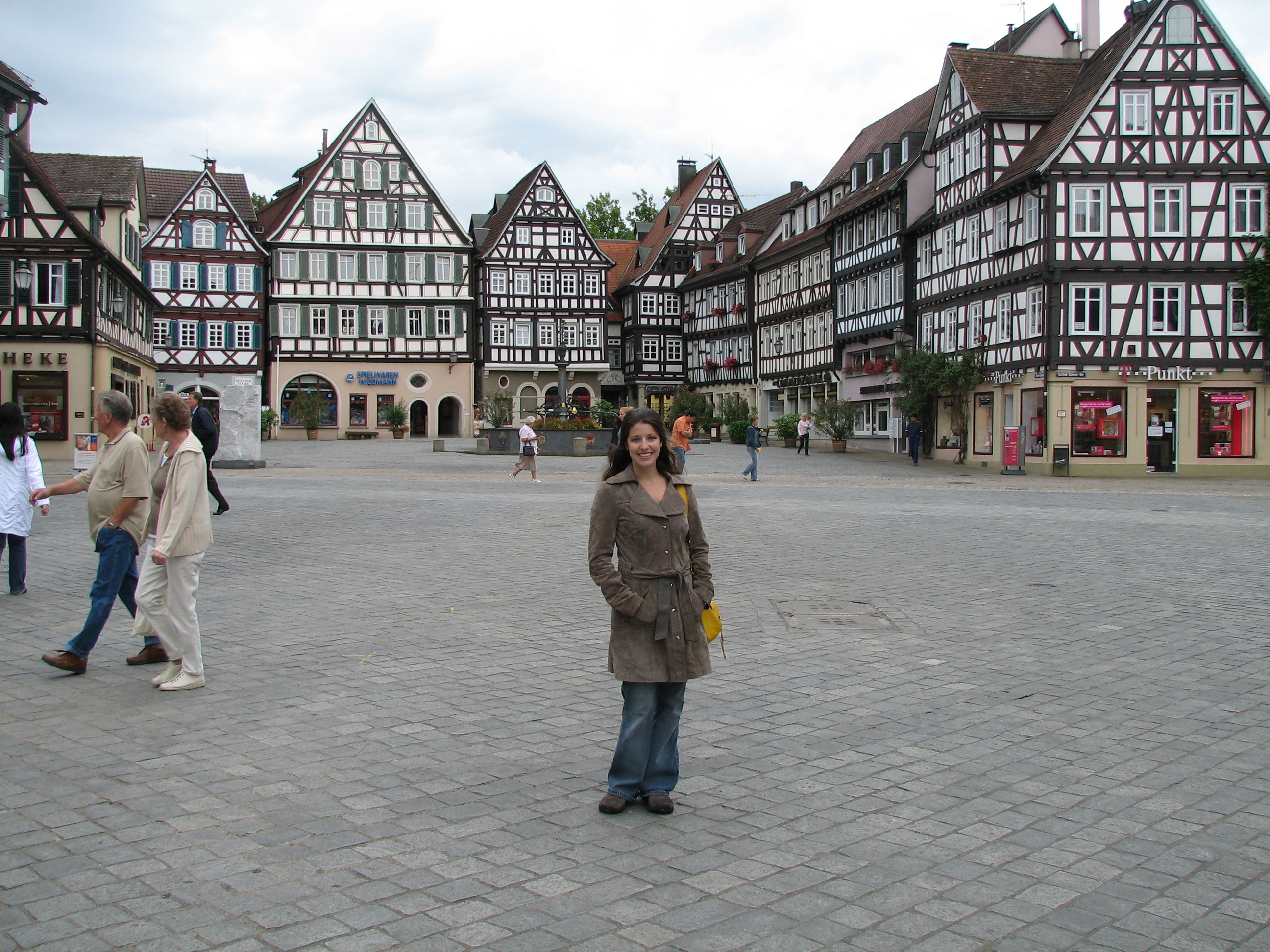 The next morning Mrs. Heidrun Bacher met us for a breakfast of cold cuts and cheeses, croissants and coffee, then took us on a walking tour of the old town of Schorndorf, which was originally built as a buffer and protector city for Stuttgart. We saw houses built into the old town wall and fortifications and the castle (whose cellars are now used to store the government's wine). We saw Gottlieb Daimler's home, as well as a mosaic depicting the famous women of Schorndorf, women famous because they fended off invaders from razing their town.
Afterwards, Brett and I were left to wander around Schorndorf's expansive flea market filled with trinkets (Brett thought) and treasures (I thought). After twirling around all of the tables, we dined on some authentic German frankfurters and some Radler beer, a half beer, half lemonade concoction that Brett deemed "the original cheerleader beer."
In the afternoon, Mr. Lothar Bacher took us outside of Schorndorf to the little town of Ludwigsburg where there is a large palace built for King Ludwig and several smaller palaces constructed for his several mistresses. We strolled about the fairy tale gardens which were teeming with young girls vying for a turn on the Cinderella throne and young boys rough housing on the stone dragon. Instead of delving into a tour with a tour guide, a tour with an audio guide, or a self-guided tour, we went on no tour at all. We just blended into the mix, having coffee and Blackforest cake at the palace cafe, letting the palace simply fold into the scenery. This sort of living-in instead of staring-at experience dominated our time in Schorndorf.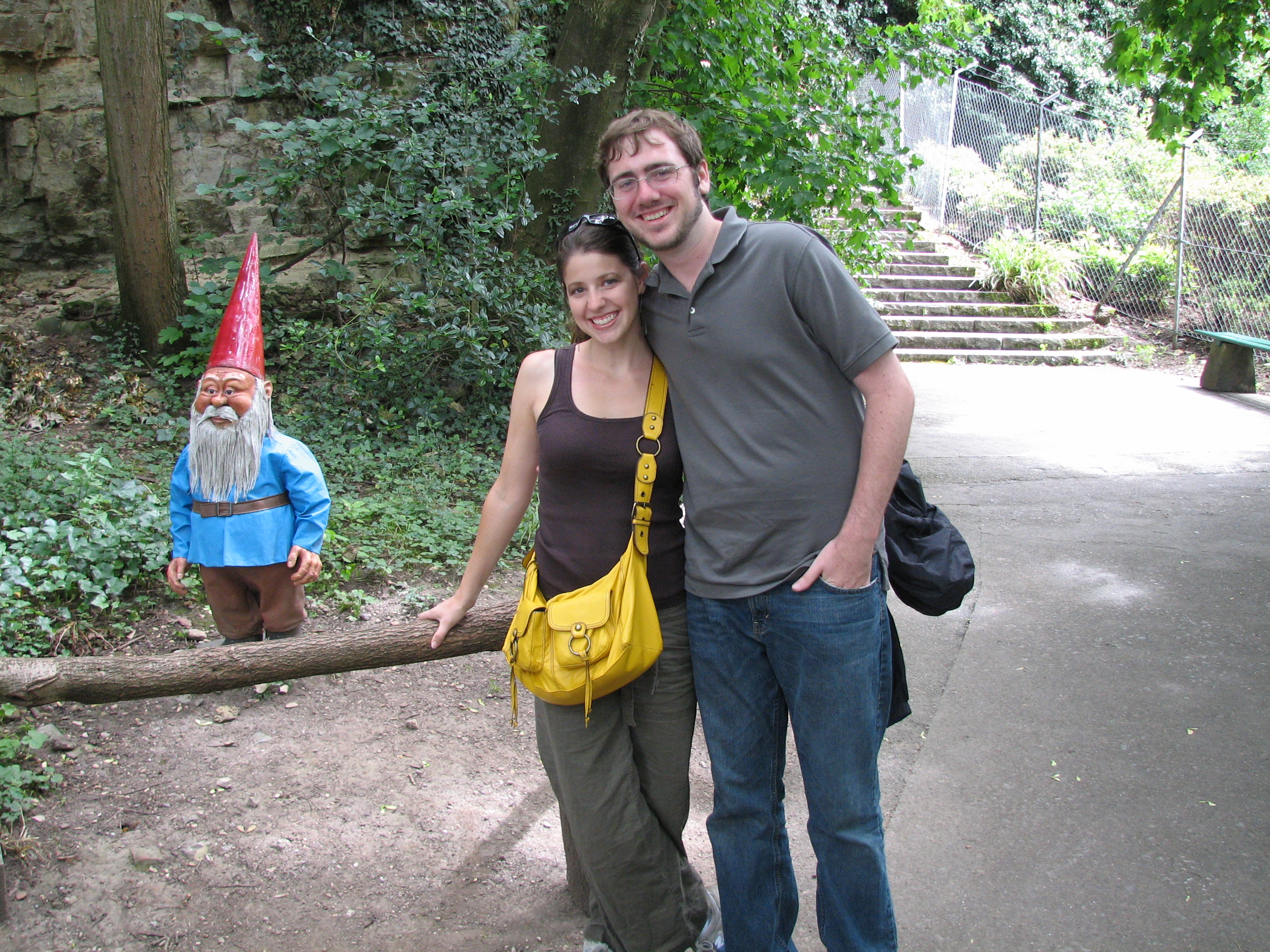 Upon our return we dined at Daimler's old workshop-turned-Italian restaurant with the Bachers, sipping carafes of sweet white wine against the intense lavender of the flowers blooming in starburst patterns behind our heads.
We went to the neighboring village of Schwabensmunt after dinner to look around when we happened upon a concert in the main cathedral. We crawled quietly into pews and waited in the stark blackness until a spotlight centered upon 4 performers with only a solo drum and their 4 voices as they performed songs from the 13th century. Once they had exited, juxtaposed against this historical showcasing, a pianist and flautist entered to play originally-composed modern music that was accentuated with a stunning light show. The green, blue, and yellow light flowed boldly up the grand stone columns of the cathedral, bleeding into the fan vaulted ceiling, cutting into the pitch black with only music and light. It was fantastic.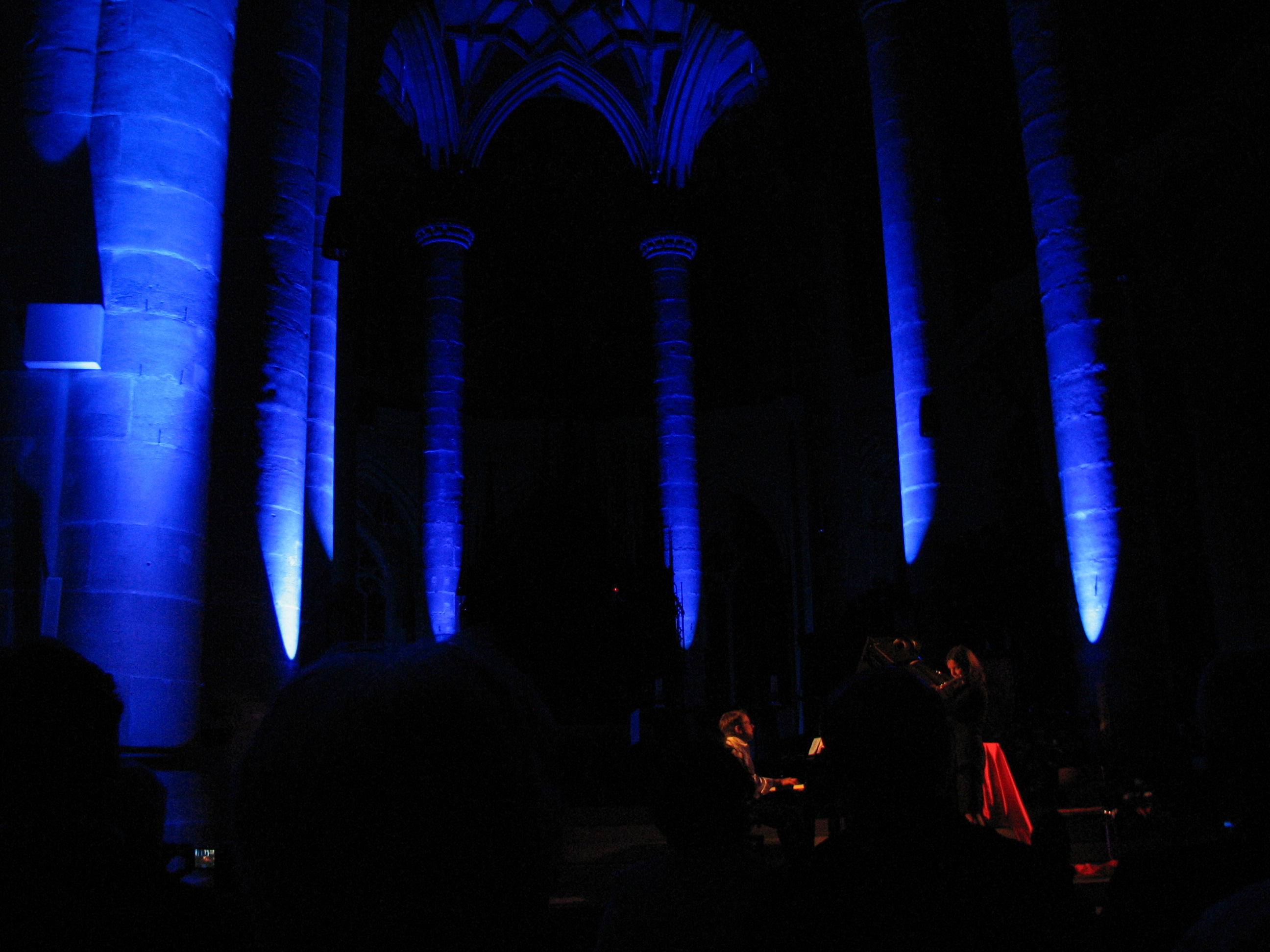 Our next full day in Schorndorf found us trekking out again from the predominantly Protestant Schorndorf with Mr. Lothar back to the overwhelmingly Catholic Schwabensmunt for mass. Schwabensmunt at one ponit in time had 13 active monasteries. That day, we experienced mass in German, but could still participate in the structure of the mass. After mass, Mr. Lothar, who had somewhat adopted us, took us to the next village of Schwabenshall for the day where we visited the Comberg, a hodge-podge of architectural styles that made up a church, fortress, and school by turns. We enjoyed a brunch inside the fortress walls of traditional Schwabian soup—a clear broth with stuffed dumplings—mmmm, Guttenappetite. We then took a tour in German of the magnificent church with its gilt corners and altar and 1 of only 3 crown chandeliers in Germany. The candles in the chandelier are still lit 3 times a year on Christmas, New Year's and Easter.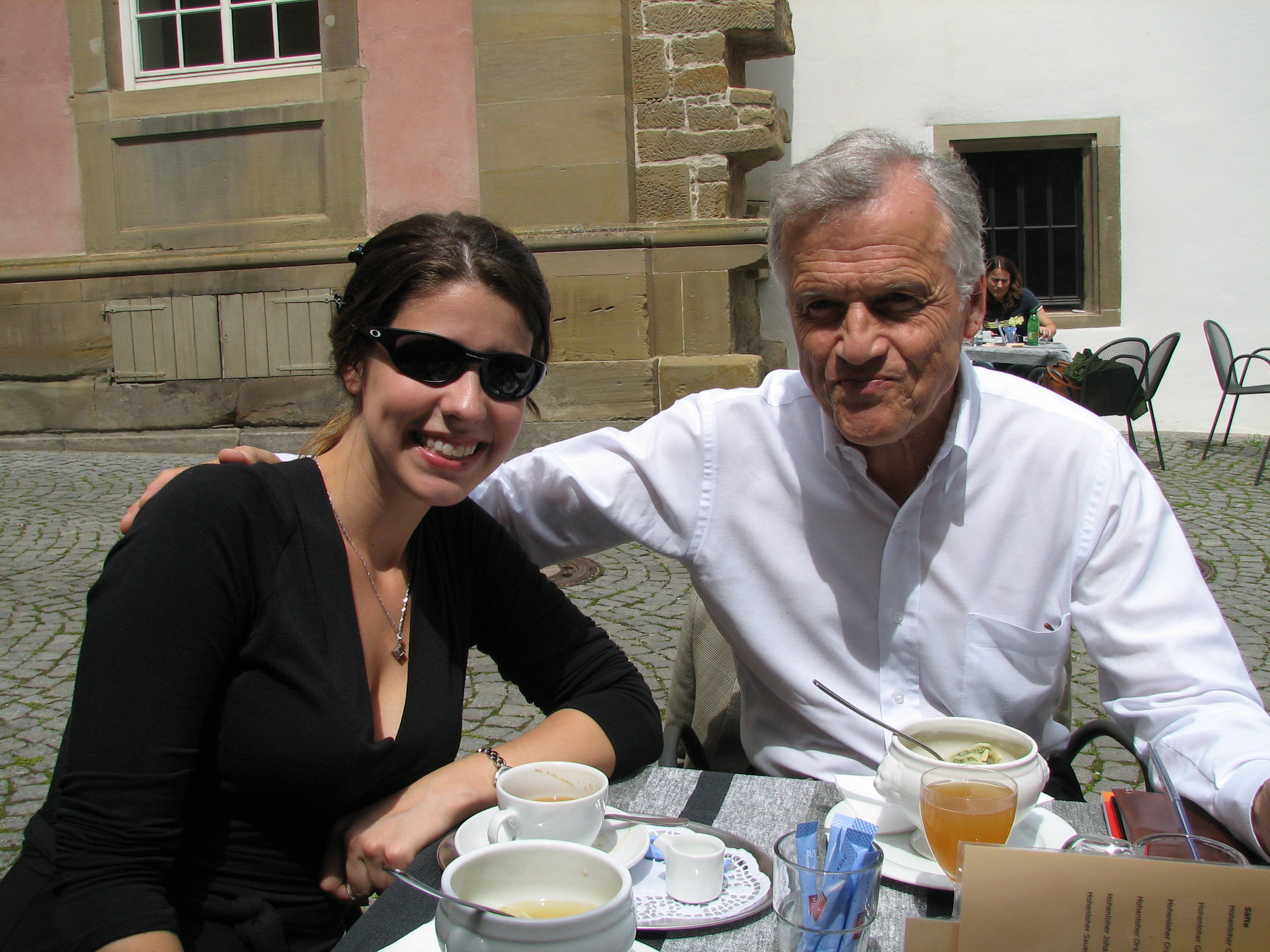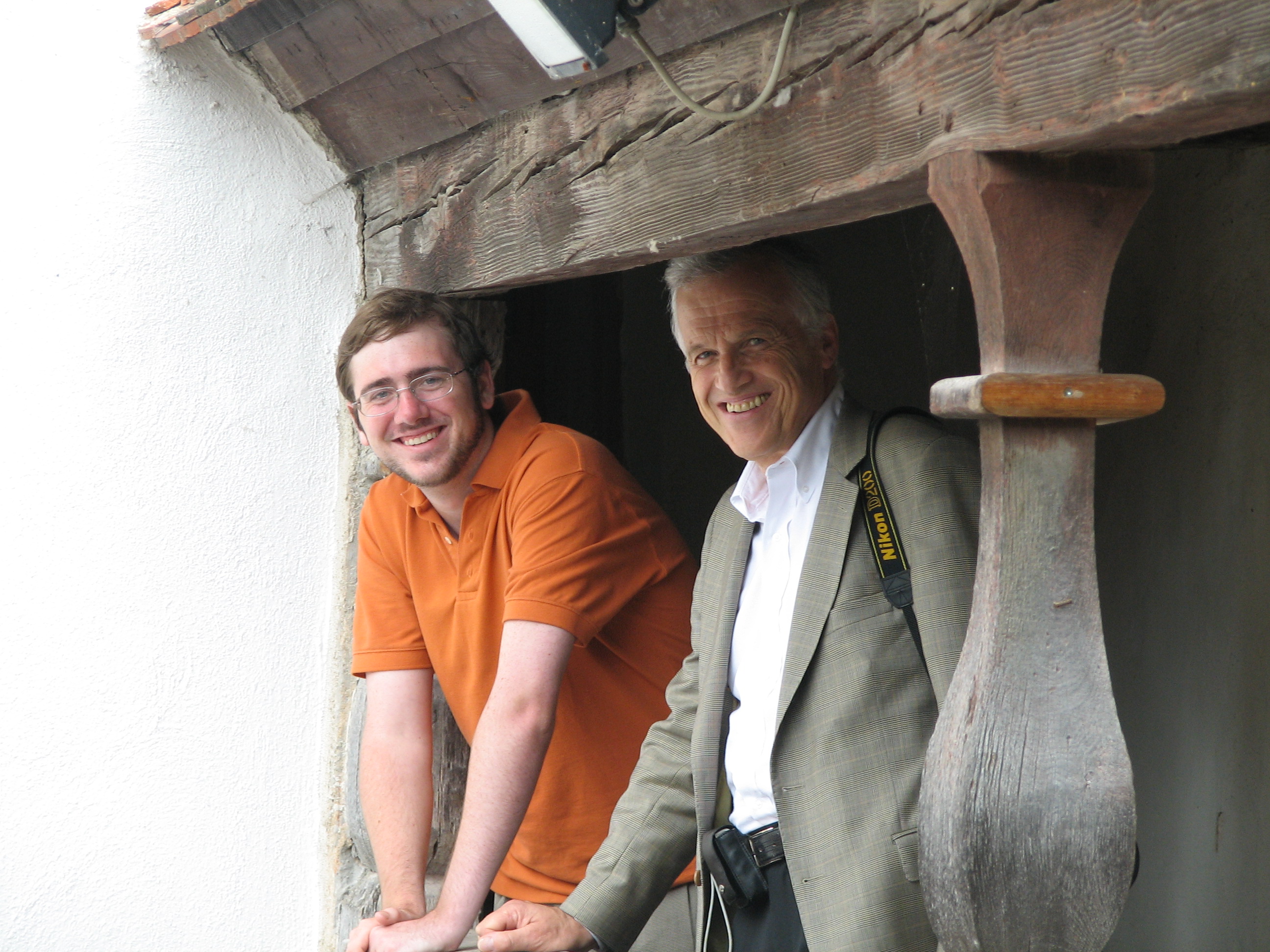 We ventured down into town to find a quiet place to sit and take cake and coffee. Germans typically take a break around 3:45 in the afternoon for cake (and it didn't hurt that Mr. Lothar had a major sweet tooth . . . we got along famously).
When we returend to Schorndorf it was time to pick Mrs. Heidi up and head off to an authentic German beer hall—the Kesselhaus—that makes its own brews in house. The traditional Schwabian delicacies, of course, had to be followed by dessert, so we went to Mr. Lothar's favorite ice cream shop where he got his "special combination" of one scoop of lemon and one of straciatella.
On our last morning, Mrs. Heidi took us to meet the Lord Mayor of Schorndorf who graciously sat down with us for about 15 minutes to engage in some real conversation. A young, energetic guy, he spoke with us about Tuscaloosa, the University, and the Ramsey Award with sincere interest. Brett and I bummed around town alone some to let the Bachers get some work done in their bookstore before meeting them for lunch at their favorite Thai place where the waitress already knew what they would order.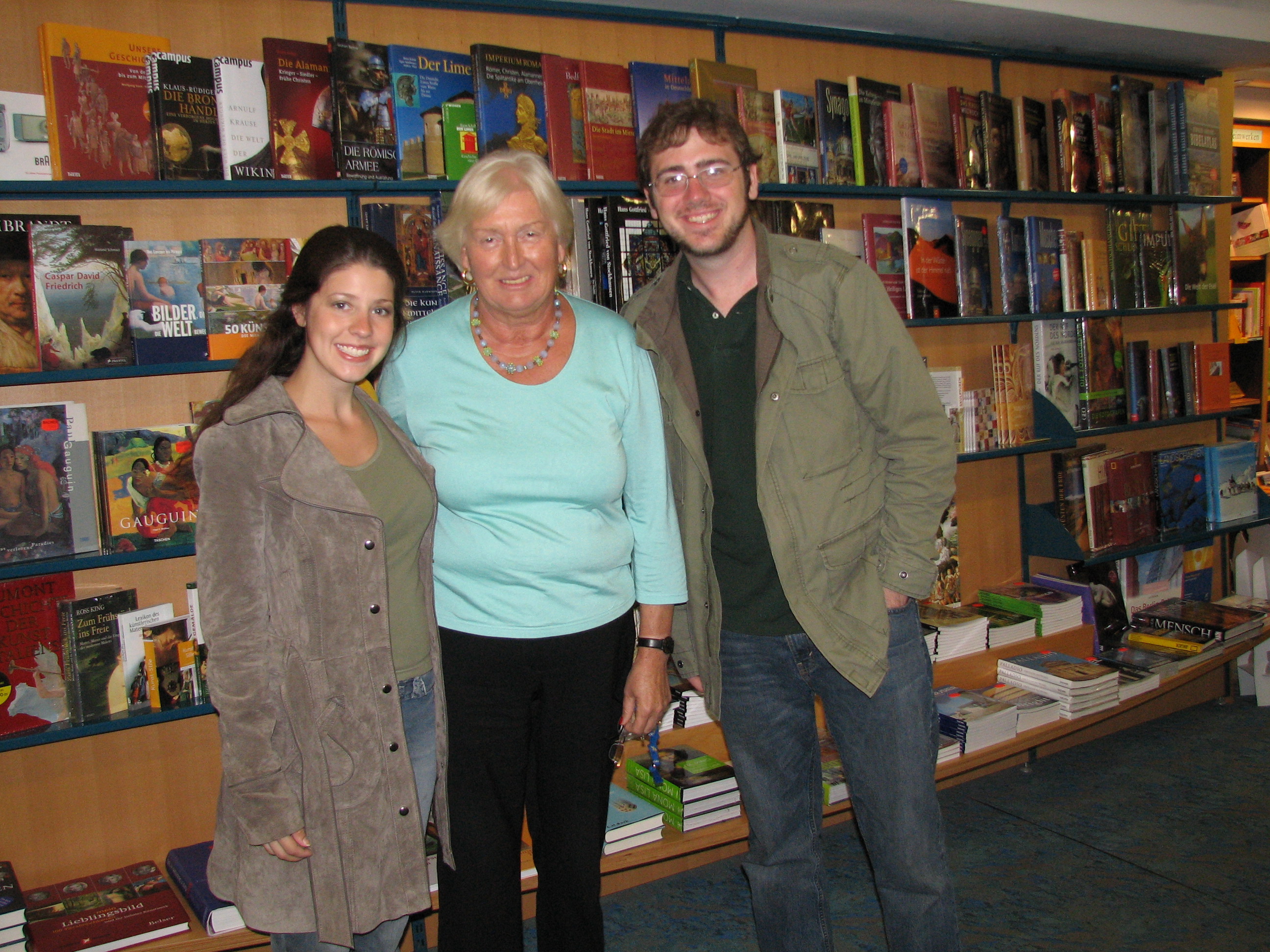 Mr. Lothar then took us to the train station and waited with us on the platform until our train came. He helped put our bags on the train, hugged us, and then waited until it chugged away. Brett and I both got lumps in our throats as we waved out the window to Mr. Lothar who had pulled out his handkerchief and was waving and waving until he could see us no more. Hanky goodbyes are the saddest goodbyes.
To think that in three days, we could have built up a relationship that leaves you with such an emotional goodbye touched us both and was one of the most authentic experiences of our whole trip.
Love,
Kristi