Florence, Italy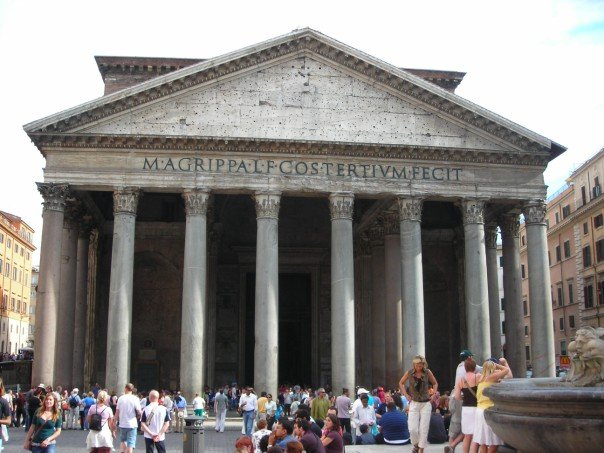 June 2, 2007–We woke up this morning, checked out of the hotel, grabbed some breakfast, and hopped a train to Florence.  We got here around 2pm this afternoon, and again, went straight to touring.  We went straight to the Duomo and toured the inside of it.  Then, we were feeling brave and ambitious; so, we took the stairs to the top of the Duomo….all 432 of those stairs.  It was a long walk up, but the view was certainly worth it.  Florence is kind of in a valley that is surrounding by some large hills/small mountains, and it is gorgeous.  We took some great pictures!  After coming down, we walked around some other parts of the city and saw some of the other big sites…Pallazo Vecchio (yes, we saw Michelangelo's David, and it was pretty cool), Galleria degli Uffizi, walked over the Ponte Veccino, Pallazzo Pitti, and the Giardino de Boboli.  Hey, when we do touring, we do touring, my man!  It was fun seeing all of this beautiful architecture, but I liked walking on the random streets the best.  Florence, like Vienna, is not a huge place dominated by cars and buses, and I love that.  I love the narrow streets and small shops.  It makes me feel more like I am in Europe. 🙂
Rome, Italy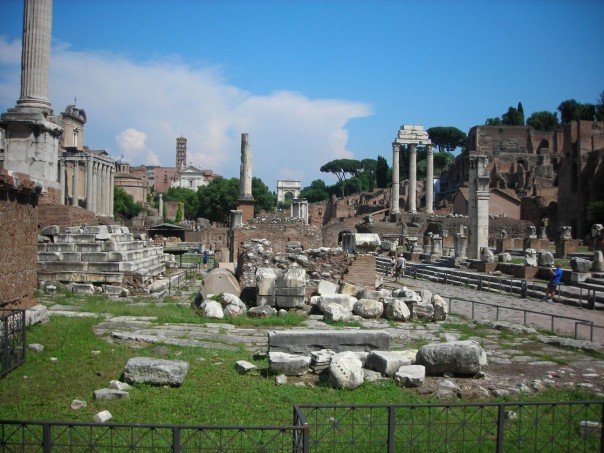 June 3-4, 2007–We took a mid-morning train from Florence on Sunday, and arrived in Rome around 2pm.  We took a few buses, found our hotel, checked-in, and hit the streets running. We hopped a bus, and we were riding along when seemingly out of nowhere, the massive Coliseum appeared.  It was kind of like the moment that I told you about seeing Big Ben up close and personal.   I have seen the Coliseum probably a million times in pictures and movies, but none of them do justice to the size of it.  We rode around the Roman Forum, the Circus Maximus, and much more.  We got out and walked around for a little bit totally astonished at how ancient history and modern history were literally smashed together right before our eyes.  You see, that's what movie, pictures, and post cards can't show you.  They don't show you the massive, old monuments with a bus or, perhaps more fittingly, a SmartCar riding beside them.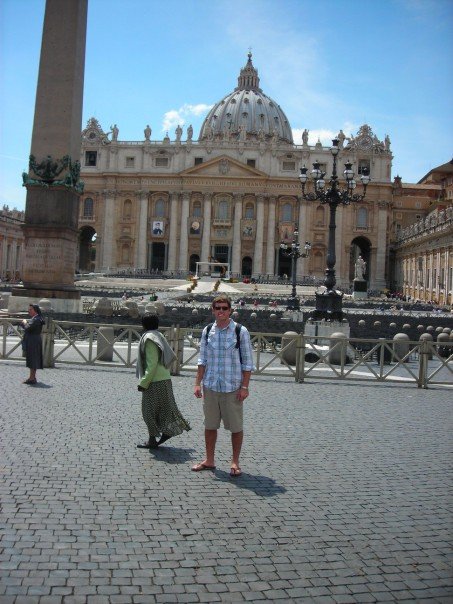 I think this is one of the things that makes Rome so neat…the clashing of history.  ANYWAY, we caught another bus and rode to another random palace that we thought looked pretty neat; so, we got off the bus to snap some pictures (yes, we are shameless tourists). It turned out that the palace was the Palazzo di Giustizia, the place where the Roman Supreme Court meets. Anyway, as we crossed the bridge to get a better picture, I hear my Dad say, "Hey, what's that?" I look up, and there is St. Peter's Basilica.   In no way do I mean this offensive to any of our Catholic friends, but we had literally stumbled our way onto the Vatican!  It was neat!  We walked around the Vatican for a while, grabbed some dinner (pizza of course!), and came back to get some sleep.  
We woke up on Monday around 8am, went out to the garden at our hotel, had some croissants and coffee, and hopped a bus to the Vatican.  Dad and I had done our homework and knew exactly where to start, but there was one problem-there were literally 1000s of people standing in line for the entry.  At the Vatican, the really cool stuff is in the museums (paintings, sculptures, Raphael's room, and, most importantly, the Sistine Chapel). Nonetheless, we found the back of that immensely long line, and one hour and forty-five minutes later, we were inside! (To give you an idea of how long this line was, please allow the following descriptions, wound AT LEAST 7 city blocks, 4-5 people wide at all points, continuously moving, and it still took us an hour and forty-five minutes!) To be honest, we thought we had done quite well because our original estimations were a lot longer!  So, off we went through the Vatican, and all I can say is that people must really like the Pope! (Here's a piece of trivia for you…if you looked at every piece of art in the Vatican museum for only 1 minute, it would take you 8 solid YEARS to look at it!)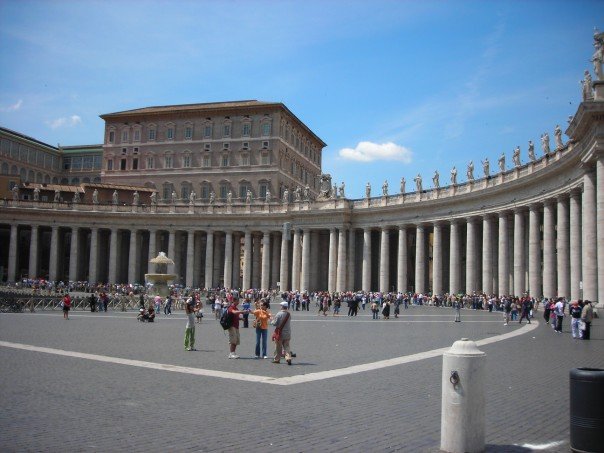 We made our way through to the densely packed Sistine Chapel, and the 2 hour wait suddenly became totally worth it!  I am in no way an "artsy" person, but Michelangelo's works in the Sistine Chapel are breathtaking!   Again, pictures do not do it justice because the human eye can distinguish depth so much better than a camera can.  It is PACKED with color at every angle, and words cannot describe it! Upon leaving the museums, we took a closer look at St. Peter's Basilica, which again is impressive considering it is the highest structure in Rome. Upon our departure from the Vatican, we took a bus to the Via del Corso.  We also walked up to the Piazza del Popolo, which used to be travelers' first view of Rome.  After that, we were craving some really fattening, American food, so, we went to the Hard Rock Café for some dinner. After dinner, we caught a bus home and crashed after a full day of touring in the hot, Roman sun!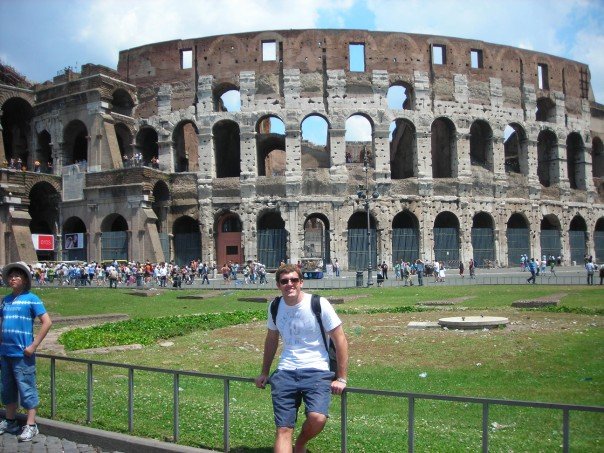 June 5, 2007— This morning, we woke up again around 8am, at some breakfast, and hopped a bus to the Coliseum.   We decided to skip the long lines today and opt for a group tour of the Coliseum, and it was definitely a great way to spend to 10 euros.  Our tour guide took us around the outside and the inside of the Coliseum, and I have to say that I could not have been more impressed.   The Coliseum was big to my dad and I, and we live in the days of spending Saturdays in Bryant-Denny or some other immense stadium.  As I looked at it and though about how huge it was, I could not help but think how huge it must have seemed to a Roman almost 2000 years ago!   How impressive it must have been! In fact, you can tell that every stadium since then has imitated it is some shape, form, or fashion.  Also, as we walked around in the Coliseum, we saw Lou Holtz (yes, Lou Holtz, the legendary Coach from Notre Dame that also coached at South Carolina before Steve Spurrier) walking around.  LOL, being the tourists and football nuts that my Dad and myself are, we hounded him down and got a picture with him.   He was SUPER nice and told us that he was here with his grandsons being a tourist just like us.  Small world, huh?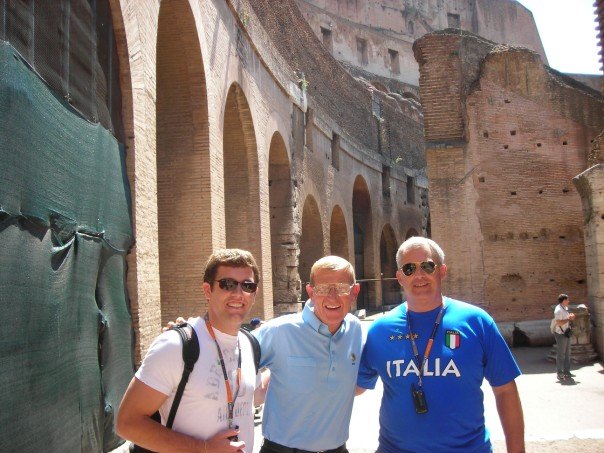 After the Coliseum, we joined a different tour going through the Palatine, the palace of the Caesars of Ancient Rome.  It was really neat to walk around and think that I was walking were Caesar Augustus, Julius Caesar, and so many other influential people walked.   We saw the private arena that the Caesars enjoyed, pieces of marble that used to adorn the palaces, and we got the stand in the area that used to be the exact throne of the Caesars…pretty cool stuff, my friend.  After that, we walked through the Roman Forum and look at all of those ruins.  Again, how impressive that must have been 2000 years ago! 
We walked the Via Sacra (The Sacred Way) that the Caesars walked throughout the years to give sacrifices and walk to the Coliseum for games and festivals.  Again, how cool is it to walk in the same exact places that these people once walked! After the Forum, we went to look at the Circus Maximus where the games and chariot races were held before the Coliseum was built.   What used to be the center of Ancient Rome is now just an open field with a few mounds that children play soccer on and people walk for exercise.  It makes you sit back and think about how quickly time changes things, doesn't it?  
Ancient Rome was one of , if not the, most powerful civilizations of all time, and I walked around ruins of it today.   It really makes you think about how temporary life really is.  Well, Dad and I are back at the hotel now. We are going to shower up and go find a nice Italian place that will attempt to make us fatter than we already are!