Venice, Italy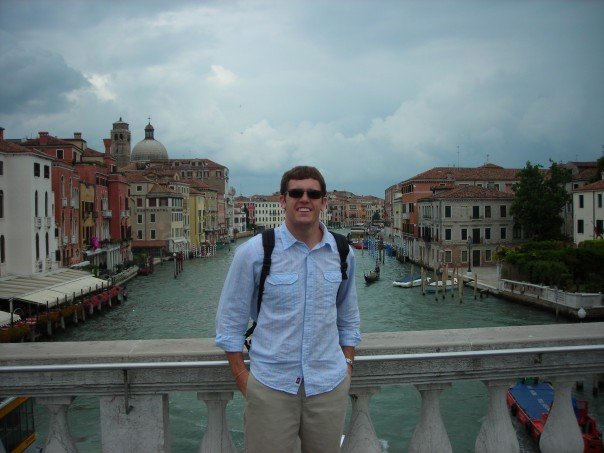 June 1, 2007–After all of the fun of Vienna, we sadly had to pack our bags and leave the great company.  We woke up around 5am, and took a cab to the train station.  We caught the first train to Venice.  The train ride, although early, was great!  We got to see more of the Alps and some beautiful scenery along the way.  Also, we had our own compartment on the train, and we were able to catch some much needed sleep.  (Late nights with John and early trains don't really mix all that well)
When we got into Venice, we saw firsthand that the pictures certainly do not do it justice.  It is gorgeous!  Our hotel was really close to the train station.  So, we threw our bags down, and hit the streets running.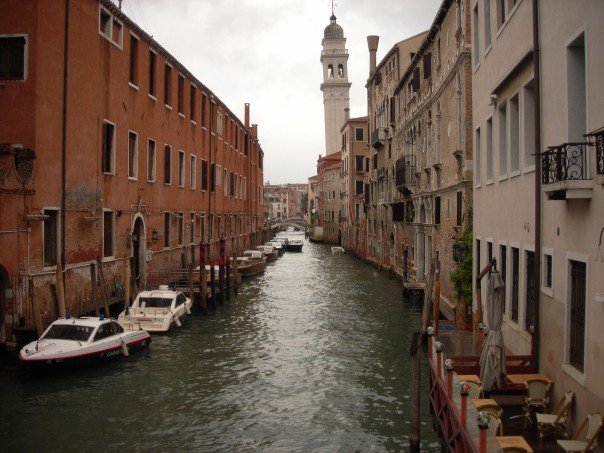 We hopped a waterbus that took us around all of the islands that make up Venice.  To be honest, I expected the city to be much smaller.  I guess when you see Venice on TV all you see are little narrow waterways full of gondolas and Italian guys in stripped shirts singing.  This is definitely the case, but there are a lot of bigger waterways in the city.  After the waterbus took us to our stop, we found ourselves right in the middle of Saint Mark's Square.  It was really neat to be in a place that I had seen hundreds of times in the movies before.  We went into Saint Mark's Cathedral, and it was different than the others that we have seen.  Instead of bright colors that were painted, Saint Mark's was mosaics and kind of dark…pretty but different.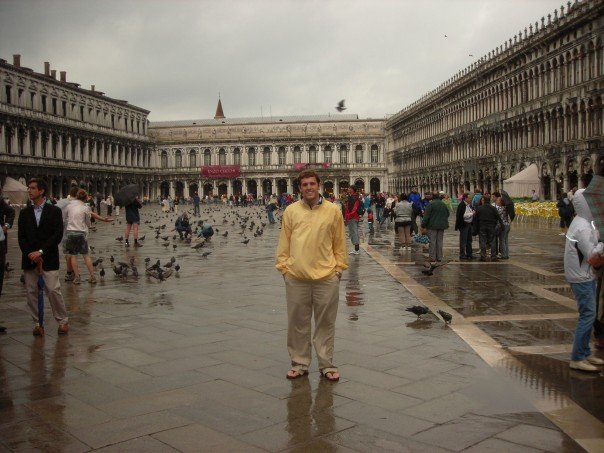 We also got to see where Saint Mark's tomb, which was pretty cool.  After coming out of the church, we were hit with a pretty fierce rainstorm, but we were up for the challenge.  We put on our pullovers, and headed to some more remote areas of Venice. John Harris told us about some "non-touristy" areas of Venice that most people don't get to see, and we checked those out.  (John, when you read this, you will be happy to know that we saw clothes hanging on lines over streets, and I am sure that there would have been some kids playing soccer if it weren't for the driving rainstorm.)  After some more aimless walking, we took the waterbus up the Grand Canal that runs through the middle of the city. Although it was still raining, it was still pretty incredible to see all of these beautiful houses and buildings that seemed to be floating in the middle of a body of water.  The "enginerd" in me could not help but appreciate the amount of engineering that went into the structure of building those buildings.  Those builders must have had some pretty good Statics teachers back in the day, my friend! 🙂  After an early morning and a good, long walk in the pouring rain, we decided to come back to the room.  Dad hit the hay, and I went exploring for the internet cafe. It was a full but fun day!