Scott Dickerson (1997)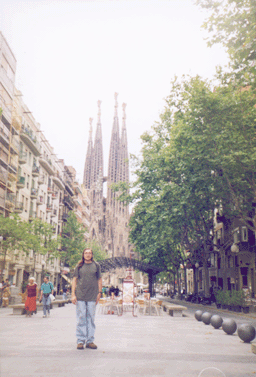 Distilled thoughts and Journal entries
Amsterdam (June 3) / 2 days
Eat fries with mayonnaise. Rent a bike to really get around.
Do not stay in one of the overpriced hotels near the train station. Don't be afraid to stay in the red light district, my hostel above an Irish pub was comfortable and friendly. On the other hand, don't forget that the red light district exists chiefly for the tourists. To get a more honest impression of Amsterdam, explore the outer edges of the city.
"land of the wooden shoe and the head shop." My original plan was to visit Spain (which has a reputation for becoming crowded with tourists) later in the trip. Judging from the crowded streets of Amsterdam, I needed to hit Spain earlier than planned. Besides I was eager to see Guernica and get the site-seeing part of my trip over earlier before the tourists hit.
Madrid (June 5) / 4 days
Make hostel reservations far in advance as spots fill up fast in Spain. Go dancing. Really. You'll enjoy it. Bring attractive shoes or you will not be admitted to clubs. Seriously.
"Wow, I had no idea that Colombians could be so much fun…" For the first and last time in my life I attempted to be machissmo which not surprisingly
was a dismal but amusing failure. Finally found my place as Sancho Panza to a certain Don Quixote roaming all over Madrid in search of his Dulcinea. Bring a pair of attractive shoes to Spain, they are absolutely essential in Madrid.
Barcelona / 5 days
If you're not yet familiar with the architect and artist Antonin Gaudi, you will be after visiting this city that houses so many of his treasures.
I was really going through a Hemingway phase during the early part of this trip, and while I didn't run with the bulls, (which seemed too "City Slickers 2" for me..)
Lessons learned:
This incidentally is where my companions finally became international. I realized that most Scandinavians spoke incredibly good English so most of Barcelona was explored with some Finns.
Vienna / 5 days
Though it doesn't seem to have a human scale because the modern buildings dwarf many of the older ones, the plaza near Stephansdom in Vienna functions very effectively as a public space. Musicians and performers fill it at all hours of the day and night and demonstrations and protests often occur in it. I also really enjoyed the spaces created in the imperial gardens of Schonbrunn. Movie to watch before coming to Vienna: "The Third Man"
Found some Mexican food here through John Harris's urging. It was fantastic and much needed! Decided to explore Prague until Ethan made it to Vienna.
Prague / 9 days
Stay on the old side of town across the bridge and enjoy the architecture. Do not miss the performers on the bridge, they are fantastic.
Prague was really a city after my own heart. The twisting alleys that filled Kafka with an overwhelming sense of paranoia made me feel cozy, as if I was surrounded by a pack of meandering friends. How odd…
Vienna / 10 days
Do not anger the macaw. Bring nice clothes for Vienna, the nightlife here is significantly better dressed than anywhere else in Europe. Time your visit so that you will actually be able to see the Opera, which I missed.
Returned to Vienna for the Ramsey collision with Ethan. I'm not sure if our itinerant wanderings had visibly changed our appearance, or if we simply couldn't picture the other appearing in a line of people in the Vienna train station, but we walked right past each other several times in the train station before we recognized each other. Needless to say, John Harris was an impeccable host and tour guide, and I don't want to give too much away, but he pulled out all the stops…making Ethan and I feel like a couple of visiting dignitaries. I enjoyed my time here so much that I actually postponed my return trip to stay longer and explore with Ethan and John. The most memorable experiences of my trip occurred here, both absurd and profound. Watching John's Macaw chase Ethan into the bathroom was delightfully ridiculous. As for the profound, our exploration of Slovakia in a Bentley seemed ridiculous at the time, but we saw first hand the incredible mark that Communism had made on the country I'm not sure how much longer Slovakia will seem so foreign before Western capitalist influences change it beyond recognition.
Budapest/ Day Trip
Brussels / 2 Days
Amsterdam / 6 Days
For the voyage home…
I was graciously hosted by a friend here and nursed back to health. The trip from Amsterdam to Madrid (and corresponding drastic change in weather), and my carousing in Spain had made me quite sick. I'm not exactly sure where an American overseas is supposed to go for medical assistance, but I ended up using my friend's Dutch insurance to purchase my antibiotics…While convalescing, I attempted to develop an appreciation for World Cup soccer here (as the World Cup was going on in France during my tour and complicating my travel plans…) Judging from the flagging interest in my journal it didn't happen… Incidentally, on what was to become sort of a theme for the trip, played and sang some songs from Man of La Mancha with a friend. I could feel myself becoming more and more quixotic every day… Time to chase some more windmills…
General Tips:
Always carry bottled water.
Phones on trains don't use coins, they use phone cards.
Remember to fill in your Eurail pass or you will be busted!
ATM cards work in Europe with decent exchange rates, but your bank
will charge you extra fees..
The eurail guide is sometimes off, arrive at least a half hour before
the train is scheduled to depart
Pay the extra for the sleeper car on overnight trains, trust me its
worth it!
Things to pack:
flashlight
umbrella
possibly a plastic poncho?
small carry on bag
journal
address book for the friends you meet
Collection of John Harris quotes:
Scott: "How can you tell it's Baroque?"
John Harris: "Well there's  $#!%  all
over the place."
"I don't really like to be on stage"–John Harris (as he's feeding a burger to the Macaw in the back of his Volvo).